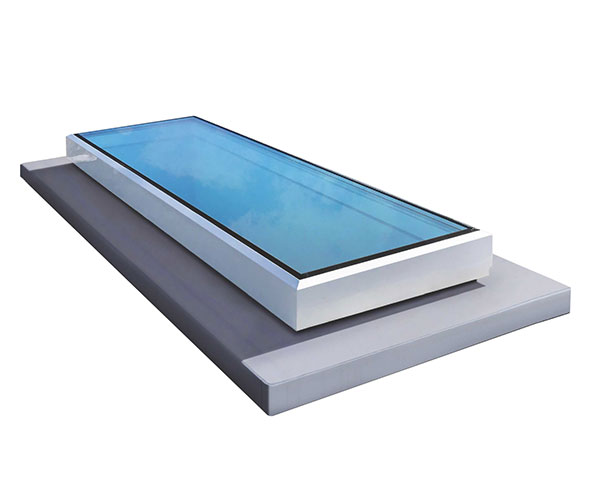 Smoke Vent
SKY-Flatglass-1MF Smoke Vent 1000x1500mm
The BILCO SKY Flatglass sliding Smoke Vent features an innovative sliding cover that provides a stylish, functional approach to natural smoke ventilation. The design provides combined natural daylight and automatic smoke and heat vent protection. The unit can be used as a smoke ventilator, a roof access hatch with a fixed ladder and a rooflight providing three solutions in one. Special sizes can be specified.
The standard sized SKY-FLATGLASS-1MF 1000 x 1500 mm is a CE-marked smoke ventilator, with a free vent area of 1m2. Sliding Skylight Smoke Ventilator Models: SKY-FLATGLASS-1MF and SKY-FLATGLASS-SSF (special sizes)
Features / Benefits
The unique sliding cover design does not require wind deflectors for smoke ventilation and features a rigid PVC frame with external metal profiles.
Ideal for use in exposed areas where a hinged opening is impractical.
Overlapping design ensures complete weathertightness.
The polyester upstand is fully-insulated for energy efficiency.
Low voltage actuator opens and closes the cover in a smooth and controlled motion.
STANDARD SIZES
SKY-FLATGLASS-1MF 1000 x 1500 mm / overall dimensions: 1300 x 1800 mm / free aerodynamic area: 1m² / weight: 190kg
SKY-FLATGLASS-SSF *SPECIAL* (Fabricated to special size requirements)
Performance Standards
SKY-FLATGLASS-1MF
| | |
| --- | --- |
| U-VALUE | 1.26 W/m²K |
| IMPACT RESISTANCE | Tested to BS EN 1873:2014 Class SB1200. |
| | Test impact energy 1200 J. |
| FREE AERODYNAMIC AREA | 1.01m² |
| OPERATION | 24V DC battery-backed control system |
| WEATHERTIGHT | Yes |
| AIR LEAKAGE | PASS according to EN1873:2014 |
| | less than 1.5m3/m2h or 0.5m3/hm at pressure to 150Pa |
| GLASS FIRE REACTION | A1 according to EN 13501-1 |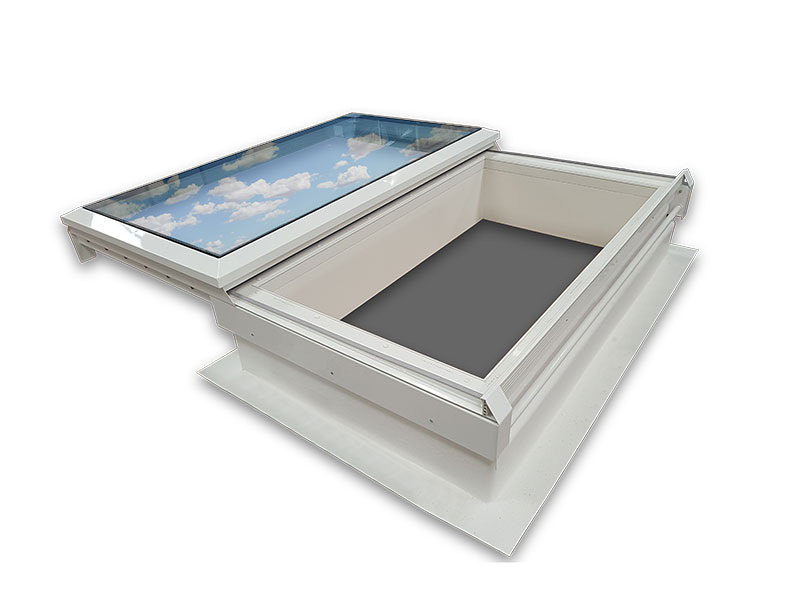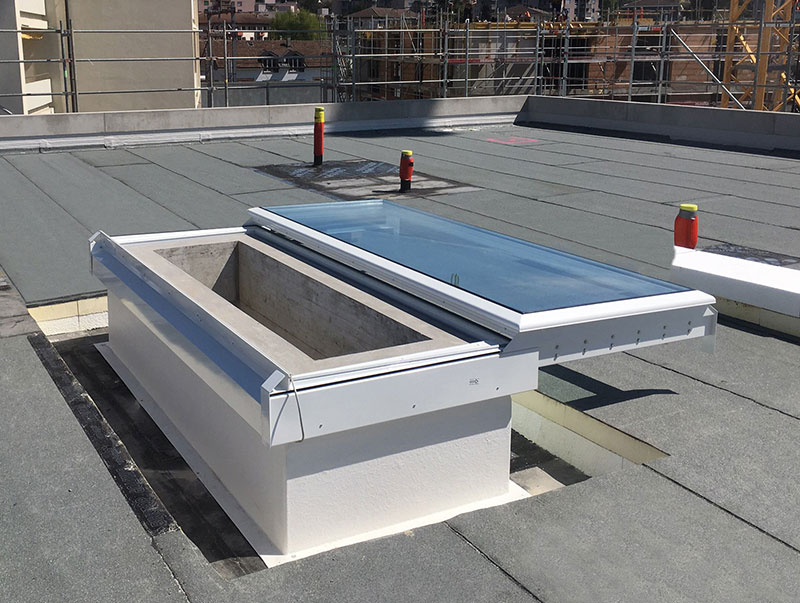 Downloads
SKY-FLATGLASS-1MF
External Resources / Links